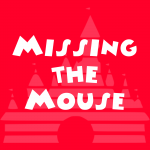 In this week's episode:
There was no followup and there was much rejoicing!
It is rumored that the all-star resorts may be getting a table service restaurant. We discuss how successful we think putting table service there would be and what they might serve.
The trams at Animal Kingdom have a new paint job. Is the new design better? Will this be coming to more of the trams and/or could it be indicative of a new style for all transportation?
We've finally taken time to look at the video from the new Mission Space: Green mission. We discuss our reactions to the new ride option.
Don't forget to leave us a review on iTunes so we can share the show! If you want to reach out you can find us on Twitter and Facebook.