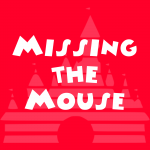 In this week's episode:
Minnie van service has been extended to the Wilderness Lodge. What resorts can we expect to see added next and how might this service change in the future?
Disney has released more information about Grand Avenue. We discuss what this new land means for Muppets and how the heck it fits in with the rest of DHS.
Disney has ended their Express Bus service experiment. How did it go on for so long and what does that mean for the future of transportation at WDW?
A new magicband is being released for Mickey's Not So Scary Halloween Party that glows in the dark and comes in a box that smells like chocolate. We somehow end up more entranced with the new Hocus Pocus magicband though.
Hong Kong Disneyland will be closing Astro Blasters to make way for a new Marvel-themed shooter. We talk about why we likely won't see something like that stateside (at least on the west coast) thanks to weird contracts.
The Festival of Fantasy parade is being moved to 2pm for the remainder of the year. What time is the 3 o'clock parade? 2pm!
Don't forget to leave us a review on iTunes so we can share the show! If you want to reach out you can find us on Twitter and Facebook.