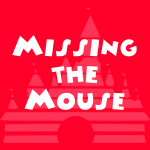 In this week's episode:
Return of the followup with a discussion about the mysterious removal of all the Hocus Pocus merchandise from this year's Mickey's Not So Scary Halloween party.
Brad brings back the Minnie van followup after seeing a picture from bioreconstruct on Twitter of the handicap-accessible Minnie van. Thanks to the magic of the internet, we were able to quickly pull a little more info on these vans via a chipandco article! (h/t to Rachel from Behind the Magic for pointing out that was a handicap accessible van)
The slinky dog coaster vehicle has arrived at Disney's Hollywood Studios and Disney created a video to celebrate the arrival. Why discuss a short video of a coaster vehicle? Because everyone love cute viral marketing of course!
Disney is continuing to expand the reach of mobile ordering. While Jeremy passed over this news item initially, Brad attempts to help him see the importance of being able to mobile order a Dole Whip.
Disney is bringing a new VIP tour to Disney's Animal Kingdom. Among other things, the tour includes fastpass entrance for all the major attractions in the parks. Is this the beginning of paid fastpasses or simply another tour?
Don't forget to leave us a review on iTunes so we can share the show! If you want to reach out you can find us on Twitter and Facebook.